Sash Tool (Paint Brush for Cutting)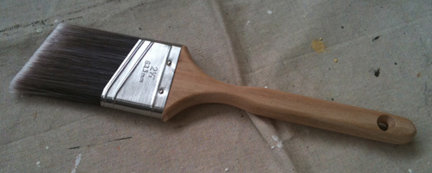 When it comes to paint brushes, I find a good quality sash tool to be the best for all-around usefulness.
Choosing the right brush for the job is harder than you might expect. Even after you've decided on the size of brush (the example above is a 2 1/2 inch sash tool), you'll find a tremendous range of prices and variations of bristles.
My advice is to purchase a high-end 2 1/2 inch sash tool and take good care of it. Choose the brush that seems to have the stiffest bristles (most resistant when you press the bristles against the palm of your hand). It's almost impossible to go wrong by choosing a stiffer brush over a softer brush—keeping in mind that you always want a top quality brush. A soft brush can cause all sorts of problems if you're using a type of paint that is thicker in viscosity (i.e. harder to spread).
Copyright ©2011 by Nathan Harms
This material is copyright and may not be reproduced elsewhere in any manner whatsoever, whether on the Internet, in print or otherwise.